Samsung Galaxy Note 20 and Note 20 Ultra - Everything You Need to Know about the New Flagship Smartphones
August 14, 2020
Recently, Samsung held a large-scale presentation called Galaxy Unpacked which presented many of its new products. The most important devices at the presentation were two flagship smartphones, namely the Galaxy Note 20 and the ultimate Galaxy Note 20 Ultra. Galaxy Note 20 sets the benchmark for the Galaxy Note line while Galaxy Note 20 Ultra is a collector of all the advanced development of Samsung. Now, let's take a closer look at the 2 new flagship smartphones and find out more about the differences between both phones.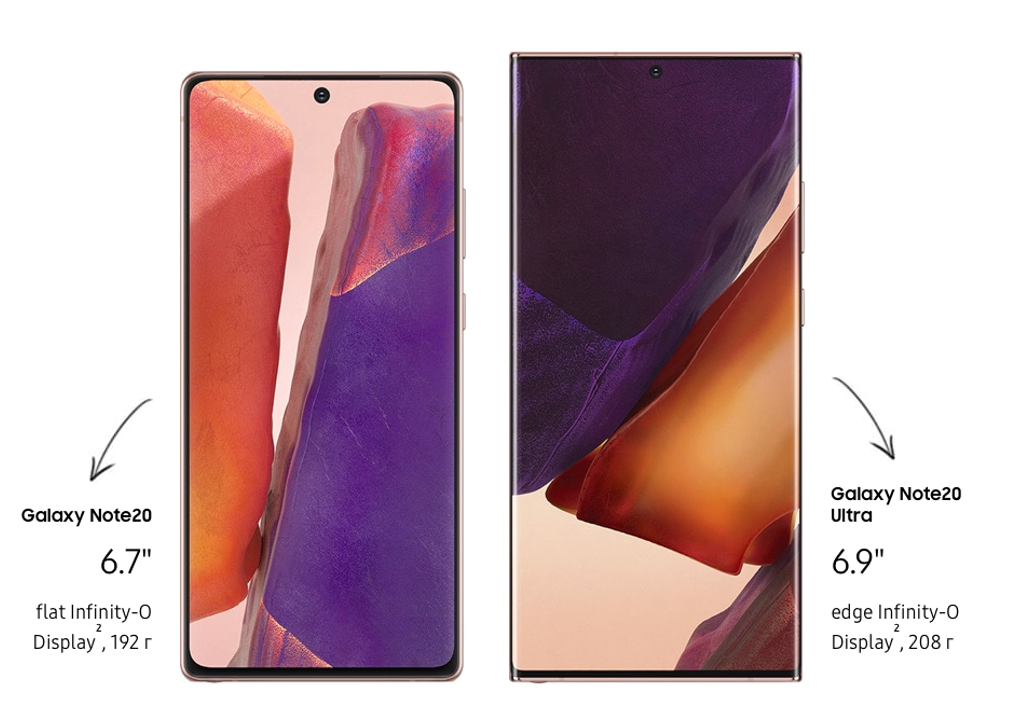 Galaxy Note 20 and Note 20 Ultra Design
Both devices differ little from each other, but in general, their design is quite similar – standard rectangular case with very rough corners, especially in the Note 20 Ultra. The Note 20 has a flat display and a plastic back cover whereas the Note 20 Ultra offers slightly rounded display sides and a glass back. The tempered glass is a new development called "Gorilla Glass Victus" which is significantly superior to the 6th generation Gorilla Glass. There are several colours for the phones: Black, Copper, Pale Green (Note 20) and White (Note 20 Ultra). The enclosure protection is according to the IP68 standard.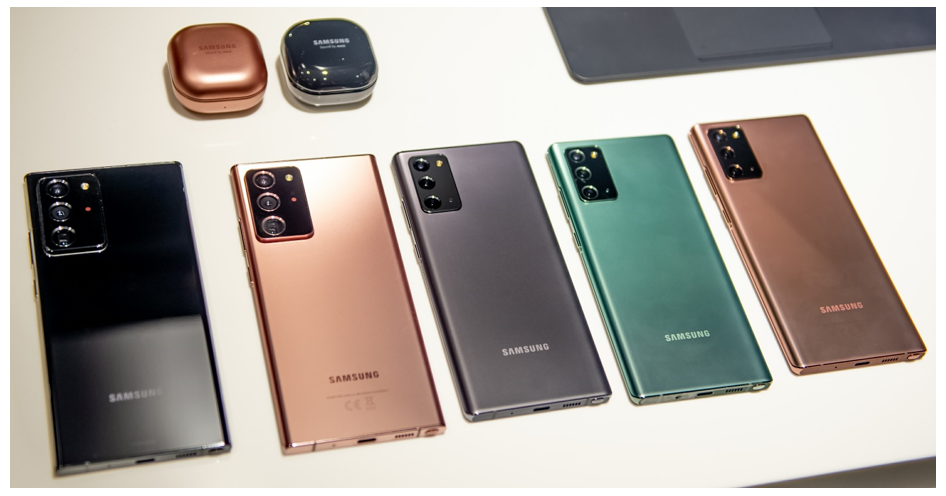 Display Options
Galaxy Note 20 Ultra meets with an advanced matrix called Dynamic AMOLED 2X with an ultra-high resolution of 3200 x 1440 pixels on a 6.9-inch display. Gorilla Glass 7 protective glass, 120 Hz refresh rate, but it is available only at Full HD + resolution. Galaxy Note 20 has a more modest display: 6.7 inches, Full HD +, 60 Hz with Super AMOLED + matrices and Gorilla Glass 5. In fact, even though the differences between the display screens is huge, the pictures looks clear and pleasing to the eye.
Camera Specifications
The set of cameras for both models are also different. As you might expect, the ultra-version of the Note 20 has more advanced sensors and lenses. Now, in more detail:
Galaxy Note 20: 12 MP f/1.8, 1.8 nm pixel size, PDAF autofocus and OIS; 12 VG ultra-wide camera with f/2.2, 1.4nm pixel and OIS; the TV camera has 64 MP with f/2.0 and 0.8 nm, 3x optical zoom and OIS;
Galaxy Note 20 Ultra: 108 MP with a pixel size of 0.8 nm, aperture f/1.8, PDAF autofocus, optical stabilization OIS; 12 MP wide with 1.4 nm pixel, f/2.2 aperture and OIS; 12 MP TV camera with 1nm pixel, f/3.0, OIS, PDAF and 5x optical zoom (there are x10 hybrid and x50 electronic zoom).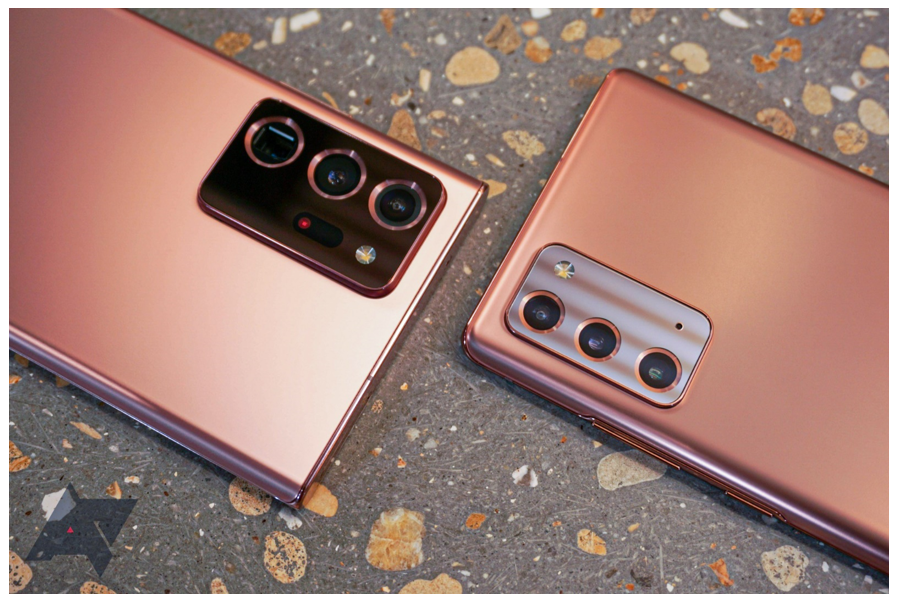 Both devices can shoot videos in 8K resolution, and have the same 10 MP front camera with autofocus. It is still impossible to see exactly how the devices are filmed, since Samsung has not yet finalized the software and does not allow bloggers to fully test the photo modules.
Hardware and Performance
In terms of performance, both smartphones are identical to each other, since it is the same chipset - Exynos 990 (8 cores, 2x Mongoose M5, up to 2.73 GHz + 2x Cortex-A75, up to 2.5 GHz + 4x Cortex-A55, up to 2 GHz). The processor is built according to the 7nm process technology and is comparable to the top solution from Qualcomm - Snapdragon 865 (it will be released on this chip only in the USA). Only one thing can be said - the Exynos 990 allows you to play games at ultra-graphics settings and has a safety margin for at least 2 years in advance.
As for the memory, the differences here lie only in the storage size: the Ultra version will receive from 8 to 16 GB of LPDDR5 RAM and a 256/512 GB UFS 3.1 drive; The Galaxy Note 20 comes with 8GB of RAM and 256GB of user storage. At the same time, the Note 20 Ultra has an additional slot for memory cards, while the usual Note 20 does not.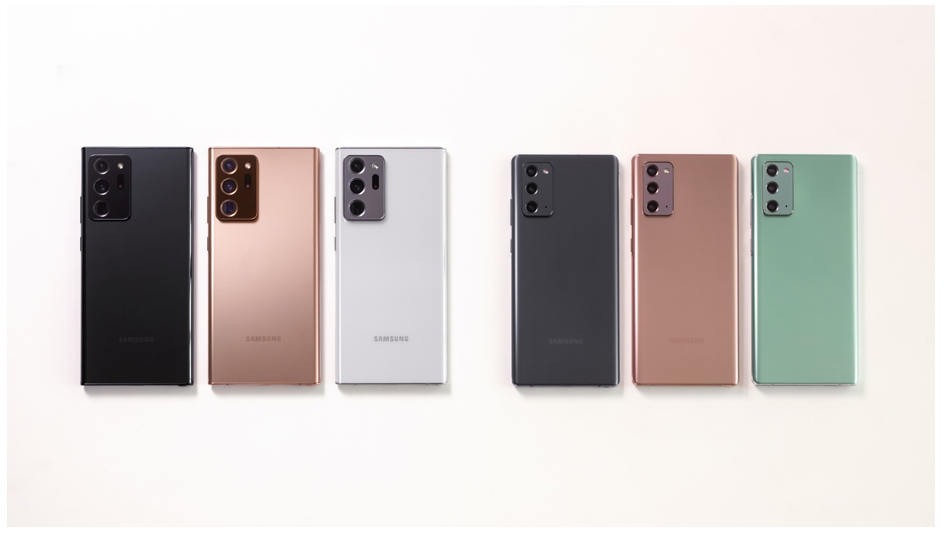 Other Device Specifications
Here are the battery capacity for both devices: 4300 mAh for the standard version and 4500 mAh for the ultra. Both devices support 25W fast charging, 15W wireless charging, and up to 50% wireless charging in just 15 minutes.
A fingerprint scanner is built into the display. There are stereo speakers with loud sound (Dolby Atmos and AKG), but without a 3.5 headphones jack.
Finally, a few words about the new S-Pen. The biggest news is that the input lag has dropped from 40ms to 9ms on the Note 20 Ultra, while the regular Note 20 has a delay of 25ms. That is, now the stylus has become even more comfortable to work. The color of the stylus corresponds to the color of the body of the purchased smartphone.
Release Date
Both devices will go on sale by the end of August, and now they can be pre-ordered on our website.