Honor 20i - one of the best smartphones with a triple camera and powerful specs
June 06, 2019 • News • new-launch • Launch • Android • honor
There are so many good smartphones on the market that we cant even count, cause each manufacturer tries to surprise by giving to the user the most interesting combination of features for reasonable money. We are used to the fact that brands such as Xiaomi, Meizu, Honor, and recently Samsung are the leaders in the matter of price/quality ratio. Today's article will be devoted to another cool gadget just from one of these manufacturers - it will be about Honor 20i. This is an interesting subflagman with a powerful processor, a triple camera, a truly frameless display that will not leave anyone indifferent, especially considering its low cost.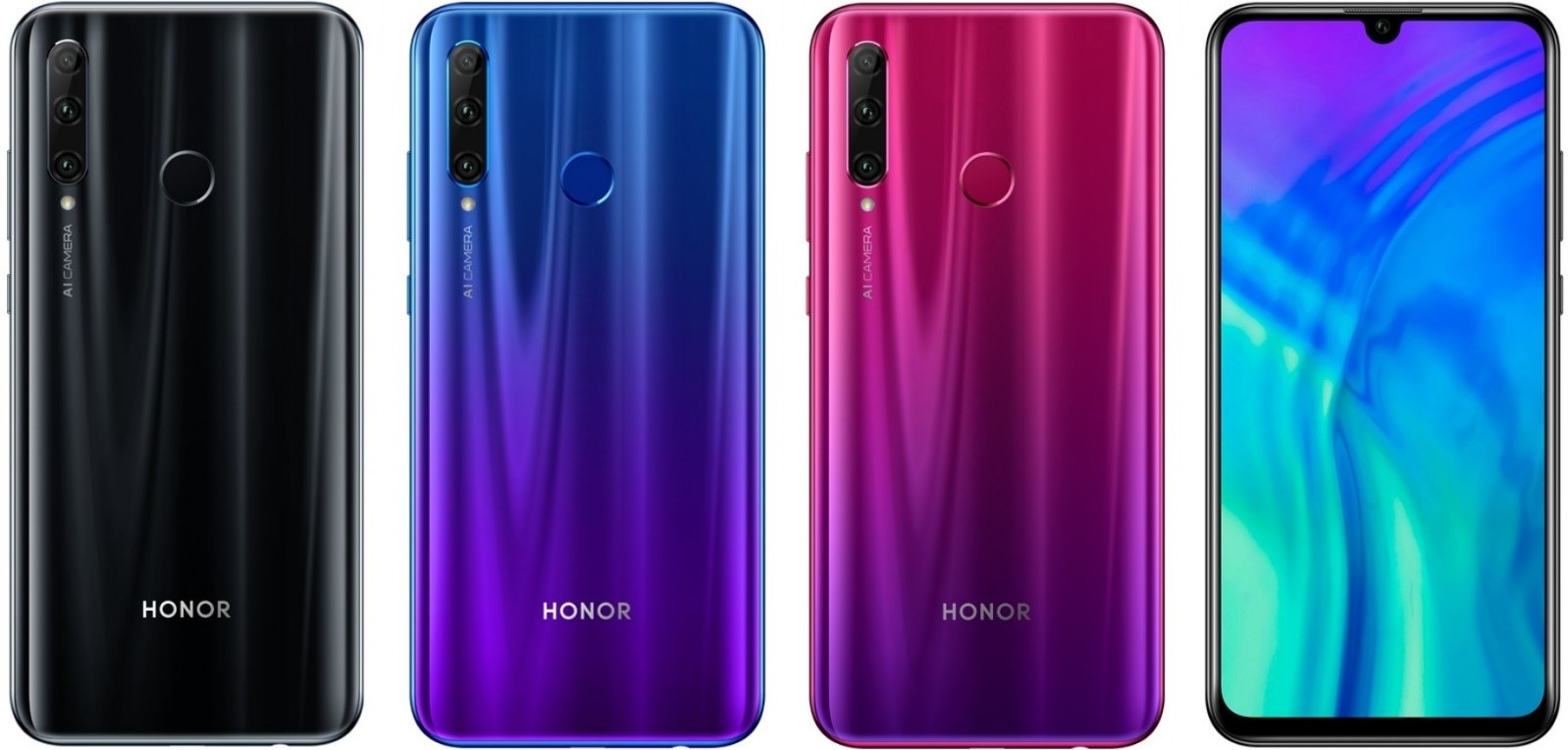 Honor 20i - the smartphone we deserve
Reducing the frame around the display is a good thing, although such a solution has one drawback. For someone its a drawback but for someone, it is not, but the fact remains that gadgets from different manufacturers have become similar to each other. SO honestly speaking Honor 20i is also easily confused with Huawei, Xiaomi, Meizu, Samsung and other devices, but at the same time Honor 20i offers almost the thinnest framework among all the competitors. The device is almost completely deprived of the edging around the display on three sides, leaving only a small indent from the bottom. The drop-like cut-out in the smartphone also looks neat. The back cover of the device attracts attention with its modulations, as well as the passing color from one to another. All in all, Honor 20i has three color options: blue-violet, red-purple, black. We can say with confidence that the device looks gorgeous in any color design, but if you want to enjoy the look straight, then you should consider the black version last.
Although due to the thin frames, modern smartphones are somewhat lost in uniqueness, yet the frameless design gives an incredible feeling from the screens of gadgets. Honor 20i has a large 6.21-inch display with a resolution of Full HD +, 19.5: 9 aspect ratio and a high-quality IPS matrix. The useful area of ​​the screen is so large that it creates the feeling that you hold only the display itself in your hands. A bright, juicy, detailed picture on Honor 20i is guaranteed.
A large and high-quality display is not only content enjoyment but also an important thing for gaming. Honor 20i offers a sub-flagship chipset Huawei Kirin 710 with powerful cores and frequencies up to 2.2 GHz. Productive cores allow you to not slow down the Android system itself, in games the high FPS performance is ensured by the Mali-G51 video accelerator, while the 12-nanometer process technology perfectly saves battery power, spending it very carefully. To play at the highest level, as well as you can download a lot of interesting content on the device, Honor 20i provides from 4 GB to 6 GB of RAM and 64/128/256 GB of permanent memory with support for micro SD cards.
And the memory is really needed since the Honor 20i has a triple main camera, as well as a frontal one with a very high resolution. The main photo module consists of 24 MP + 2 MP (depth sensor) + 8 MP (wide). That is, you can take both regular high-resolution photos and portrait photos or wide-angle on your smartphone's camera. A wide angle allows not only to capture as many objects as possible (the best solution for urban/natural landscapes), but also to make macro photos. The front camera also has a resolution of 32 MP - such sensors are rare even in flagships. Simply put, Honor 20i provides great photos and videos and provides unlimited photo opportunities for mobile shooting lovers.
Finally, I would like to mention the 3400 mAh battery, which provides the smartphone with long hours of operation. Economical processor, as well as the smart power consumption of Android OS 9 consume battery so that on average it lasts for least 1-1.5 days.
Currently, the Honor 20i smartphone can be pre-ordered on our website. Believe me, the price will pleasantly surprise you!

Subscribe to our newsletter or follow us on FB and be the first to get notified with the availability of this gadget.
You can also order at our website and become the first owner of this novelty!