Asus ZenFone 6 - wowed flagships with an insanely large battery and Rotating dual-camera
June 14, 2019 • Android • new-launch • News • Asus
Beyond the edge of the usual - this is exactly the slogan of the company, which describes the whole essence of the new flagship ZenFone 6. The device combines the innovative developments of Asus, offers top performance, an unusual and sophisticated appearance, and literally goes beyond the usual. The smartphone has received a frameless screen, which the brand proudly calls the NanoEdge, as well as a 48 MP rotating main camera and an incredible 5000 mAh battery. Actually, what else should offer a modern flagship, if not the best combination of features and prices.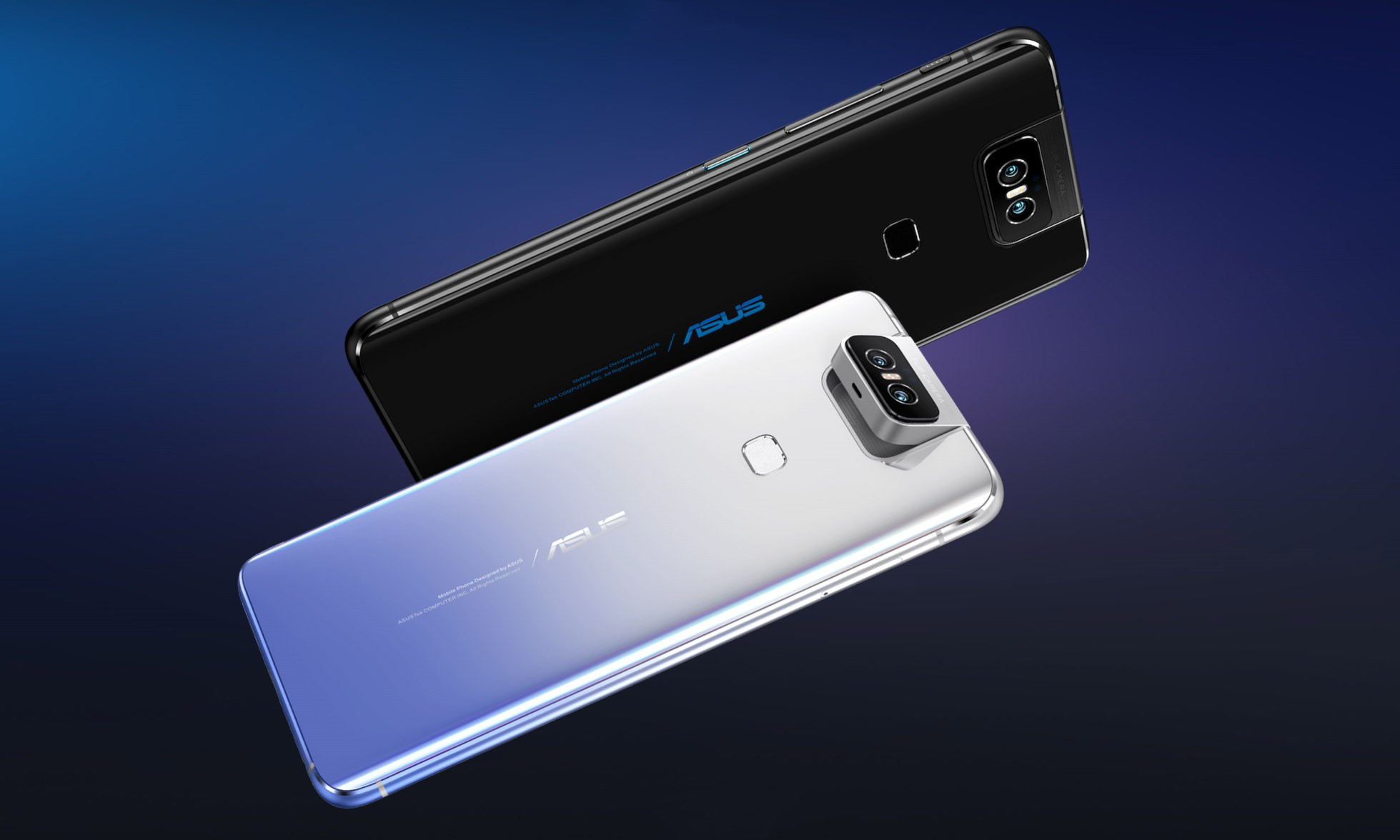 Asus ZenFone 6 - the first flagship that just wowed us!
A frameless screen today does not surprise anyone, even in the mainstream segment, but Asus managed to create something more. The company calls smartphone's display NanoEdge, since the display really goes from edge to edge and has a nano-frame. The ZenFone 6 display offers a wide color coverage of up to 100% DCI-P3, a high brightness of about 600 nits and, in fact, a large usable area - up to 92%. The screen is covered with a new tempered high-strength glass Gorilla Glass 6, and its size is 6.4 inches diagonally.
The phone has the top-end processor Snapdragon 855. This is the fastest and most advanced chipset ever produced by Qualcomm. It is not surprising that this processor comes in most of the flagships of 2019. Snapdragon 855 is so powerful that it is simply impossible to force it to slow down, both when performing normal tasks and in games. Any games on ultra-graphics settings feel great with this processor. If we talk about memory, then in ZenFone 6 64/256 GB is available on the internal drive and from 6 to 8 GB of RAM.
4000 mAh battery capacity for the modern flagship - something ordinary. However, Asus decided that this was not enough and installed a Zenfone 6 battery for as much as 5000 mAh. The manufacturer promises up to 2 days of autonomy with active use, up to a month of work in the standby mode on the 4G network, up to 33 hours of talk time on the 3G network and at least 21 hours of screen activity during surfing the Internet. Moreover, such a large battery can be charged with high current values, since the device supports Quick Charge 4.0 fast charging technology.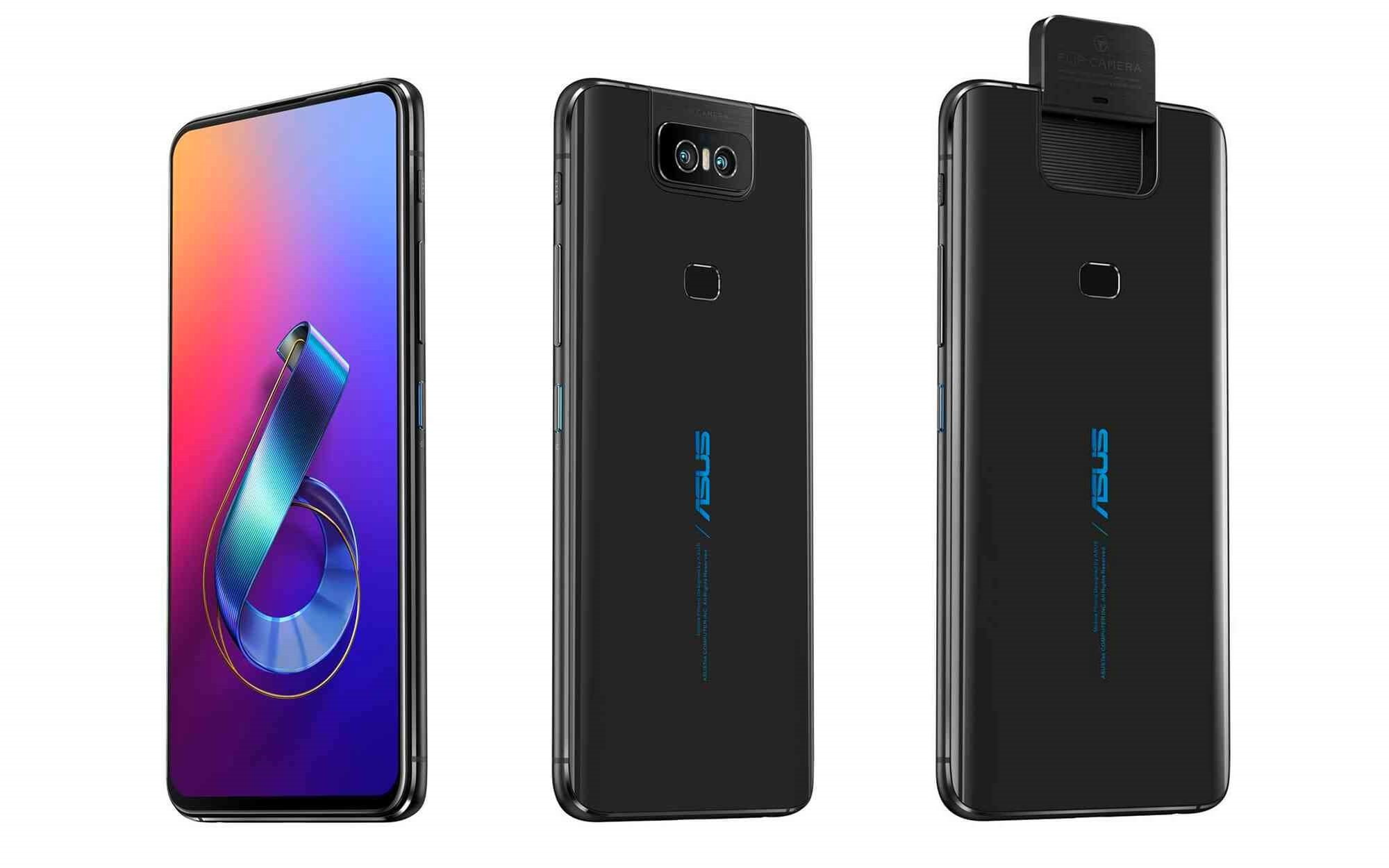 Like all modern flagships, ZenFone 6 has a high-quality assembled case, made of premium materials, namely, tempered glass Gorilla Glass 6 on both sides and a metal frame. The frame is made of high-strength alloy - amorphous metal. It is lighter than classic alloys by 20% and 4 times stronger. But the design of the smartphone is unique due to rotating camera, which acts both as a front and as the main one. The camera mechanism has a durable, high-precision stepper engine. It rotates the camera from one side to the other in just 0.5 seconds. It is also worth to mention that camera has a system of protection against damage - with the help of an accelerometer, a possible threat is determined (when the device falls) and the camera is brought to a safe position.
The very same photo module of the smartphone consists of two cameras for 48 MP Sony IMX586 and 13 MP cameras with a viewing angle of up to 125 degrees. Asus has so strongly asked the question of improving the photo capabilities of Zenfone 6, that everything cannot be described in detail. Therefore, we will provide all the information on the cameras in a short list.
Fourth Bayer filter with a pixel size of up to 1.6 microns with a matrix size of 2 inches;
High-aperture optics with an aperture value of f / 1.79;
Ultrafast phase autofocus 2X1 OCL + laser autofocus;
Elimination of distortion when shooting on a wide-angle lens with an overview of up to 125 degrees. Image correction occurs in real time;
Shooting in HDR + Echanced mode. Analogue of HDR + from Google, necessary to create colorful and bright photos with excellent detail in any shooting conditions;
Super Night mode. Used to create high-quality photos that are as close to reality as possible in low-light conditions;
Shooting at any angle. Thanks to the mechanism of the rotating camera, the smartphone allows you to take pictures at any angle from 0 to 180 degrees;
Incredible front camera. Due to the fact that the main camera acts as a front, then all of the above is true for a selfie camera.
Asus ZenFone 6 will soon appear on our website at a very attractive price. Follow the news to not miss anything interesting!
Subscribe to our newsletter or follow us on FB and get notified with our promotions and new launches.