ASUS Rog Phone – our review of the new gaming smartphone
November 30, 2018 • Android • new-launch • News • asus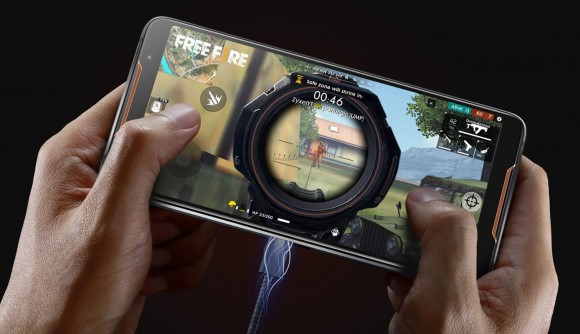 Mobile gaming is not yet highly developed but 2018 was a slight push from many manufacturers of smartphones and they started to produce gaming devices. For example, very well-known Razer Phone, Xiaomi Black Shark or Nubia Red Magic. The brand new ASUS Rog Phone stands out from the group and exceeded all expectations. This new model literally became the killer of all other gaming phones and set an example how it should be. The new device has a lot great features and improved performance and we want to share it with you.
ROG Phone Specs

The heart of gaming smartphone from ASUS is the flagship Snapdragon processor 845. Surely everyone knows about its performance and capabilities and the fact that it can cope with any tasks. ROG Phone has an advanced chipset settings and this allows increased power. User are able to configure the frequency of the processor as well as increase the display refresh rate to 90Hz.
Also on the side of the phone there are two touch buttons that can be very useful to the player. He can set up any action on them and greatly facilitate his tasks. The display in the ASUS Rog Phone is 6 inches with AMOLED matrix and FullHD + resolution. And of course the screen refresh rate is 90Hz instead of the usual 60Hz. Device has a double camera. Main one is 12 megapixels with f / 1.8 aperture and the second one is 8 megapixels with f / 2.0 aperture. A top-end Sony IMX363 sensor with a large 1.4-micron pixel size is installed as well. The battery capacity is 4000 mAh which is rather good.
Speaking of ASUS ROG design. The main cool advantage is asymmetry design of this device. The fingerprint scanner is not located in the middle of the back panel as we are all used to, instead it is placed closer to the right side and has the shape of a rectangle. The case itself is made of metal and there is a backlight at the back that can be customized. Included in the box is a plug-in active cooling system, which has a Type-C USB and a 3.5mm headphone jack. In addition, ASUS ROG Phone boasts of an amazing stereo sound provided by two powerful speakers on the front panel. Its fair to say that its one of the best sound among most smartphones nowadays.
ASUS ROG Phone - price

The basic version of this smartphone comes with 128GB and 512GB internal memory and it is now available at Etoren. A special dock station that allows you to connect to a monitor, keyboard and mouse can be purchased additionally. Also a much needed branded gamepad or a second display that will make mobile gaming much more convenient.